F
ormer artist, illustrator, creative director, brand consultant, designer, muralist, comic writer and 2D animator based between Bristol, Madrid and Cádiz.
His projects extends from a informal drawing book to elaborate comertial productions forming part of a bigger team. In the vast range of products Andi has been working designing packagings and or labels for many products, animations for TV commercials, books design, brand creation and consulting. Actually he currently divides his time between drawing, designing, painting and animating. Sometimes, somehow, he find the way to get some rest.
Artista, ilustrador, director creativo, asesor de marcas, diseñador gráfico, muralista, dibujante de cómics y animador 2D que vive entre Bristol, Madrid y Cádiz.

Sus proyectos abarcan desde desde el mero cuaderno de notas a elaboradas producciones comerciales formando parte de equipos más grandes. En el vasto rango de productos Andi ha estado trabajando en el diseño de packagings y etiquetas para numerosos productos, animaciones para distintas cadenas de televisión y anuncios, diseño editorial, diseño de marca y asesoramiento. Actualmente divide
su tiempo entre el dibujo, el diseño,
la pintura y la animación. Alguna que otra vez, cuando puede, gusta de descansar un ratito.




Visit
Behance Portfolio
for more Graphic Designs and comertial artwork.
More in
.......................................
Andi Rivas´ Short BIO
Born in Cádiz, Spain 1975. He received a bachelors degree from Granada University of Arts in 2001 and Akademie Voor Beeldende Kunstenaar, Tilburg (Netherlands), while drawing for magazines and some collective shows. Then he went back to Cádiz where he has bee awarded with two Quiñones painting awards. 2003 was a good year, a recognition came to him by Junta de Andalucía:"Young artist of the year" award, this leads him to Madrid, where he will join Domestico´03, commissioned by Amelie Aranguren and Mónica Carballas ( Museo Reina Sofia- Madrid). In April that year, his first solo exhibition: "Apocalipsis sobre Cadiz" at Islahabitada Art Gallery, Cádiz.
In 2005 he receive a grant Fronterasur from Diputación de Cádiz. Emotive Project,. A video huge project with 8 animations. This meant the starting point for an Art and design studio based in Cádiz in a team with Raul Gomez. From there he will face designs projects and Art exhibitions for thre years. Between these projects we can find viodeoclips for SONY BMC, Offitial image for Festival de chine de Málaga, NotodoFilmFest, branding for HyChain (European Hidrogen Energy Platform), designs for Canal Sur, book designs…Also some more artistic projects as "Onoplástica" solo exhibition, FIVAD and collective exhibitions in Madrid, Barcelona, Sevilla, Cádiz, London, Roma.
In 2007 Emotive Project is awarded with Cádiz Ciudad Constitutional Design Price and join "Geopolíticas de la animation" in CAAC- Sevilla and MARCO-Vigo. Later this year he is awarded with a young talent art grant: "XLIII Certamen de jóvenes Creadores" Cajasol, comissioned by Paco del Río introducing his project "Orgánico".
In 2008 he decides to walk alone and move to Madrid, convening with numerous visits to New York.Then is when Andi came up with a new idea "Road Movie". An videointallation created for a Collective exhibition at "Casa de Vacas" Retiro Madrid. Later this work joined the Collecion of Comunidad de Madrid. It was shown in Tentaciones Madrid Film Festival and collective exhibitions in Spain, Mexico, Norway, Morocco. In 2011 Road Movie joined the REGION 0. The Latino Video Art Festival of New York.
Next year he created the official Carnaval Cádiz 2009 image and Carnaval de Madrid 2009 too. After a few creative months he started RD2 with his brother Carlos Rivas. A creative communication agency and design studio in Madrid. After a while they add David Figueroa to the team, growing from small to medium in a short while. RD2 worked closely with big clients as Red Bull, Osborne, Seagram´s or Continental Hotels among them.
.......................................
Other projects

Bellow these lines a sellection of old art work.
In 2012 his first solo exhibition in Madrid "Vivir mata" with Iam Gallery at Monkey Garden and some projects in collaboration with NEKO (street artist), Andi met the streets and its language.DIREKTOHUIS in Berlín 2012, collective exhibition, Cultbrand "The art of brands" Collective exhibition, introducing "ALLEZ-ALLEZ" for Olimpique de Marseille. An international meeting of illustrators. Also Andi was working in a serie of commissioned paintings, developing a busy and crazy style of drawing.
Clone Magazine in 2013 special edition "Left along the road". A collaboration illustration project with ROSH333. It was a collection of 16 images, black and white, matching two very different styles. This work was featured in Delimbo Art Gallery (Sevilla). mid 2013 RD2 dissolved and Andi started to work by his own again. Then he moved to Barcelona where developed some work as De Pelea or Tatami Sushi Bar. After he moves to Bristol (UK).
MAUSS Urban Art Festival in Málaga 2014. Comissioned by Fer Francés, was a good start. Andi´s project was "Welcome to Spain". It was made as a friendly colored and ironic message to all the foreign people coming from abroad, as the Festival meant to be a forum for big Urban artist all around the world. Later this year Andi joined FRÉ, as a head designer, coordinating a big project of artist tees and as a brand manager. Lately he has designed a set of teeshirt for "El niño de Elche" under this brand.
In 2015 Andi came back to the comics and selfpublished his first fanzine in english: This is Bristol. A local Risoprint booklet of 20 pages that rocks the best libraries in town. He also joined Shangri´la Crew in Glastonbury Festival, collaborating with two projects in 2015 and 16. UKTV was the last year, a set of viral animations and posters.
Ask for more info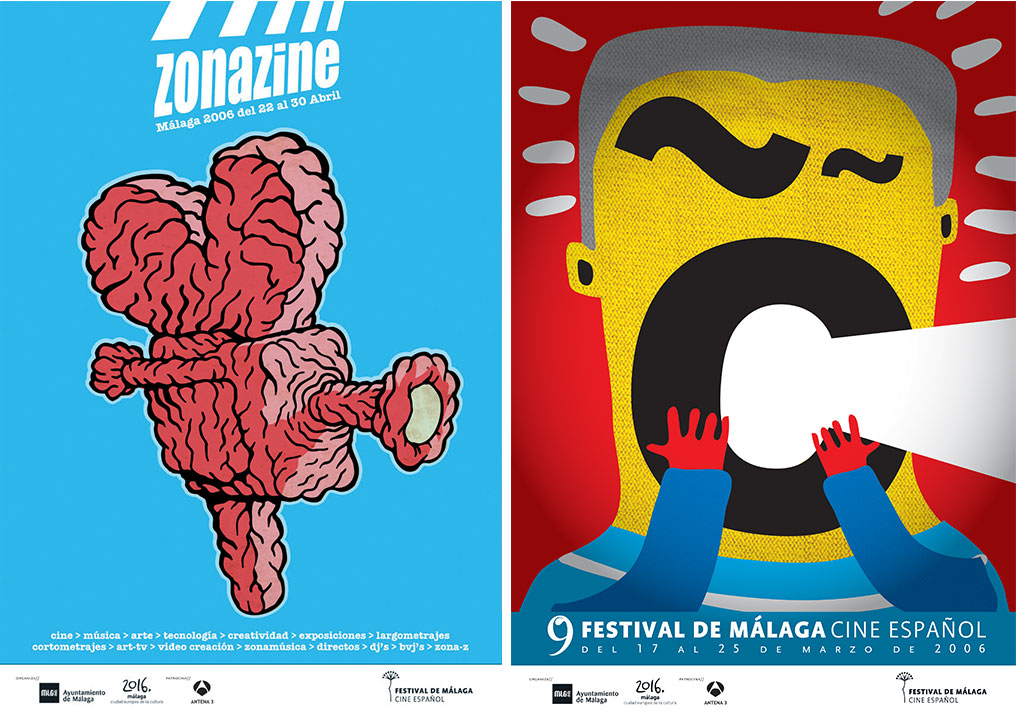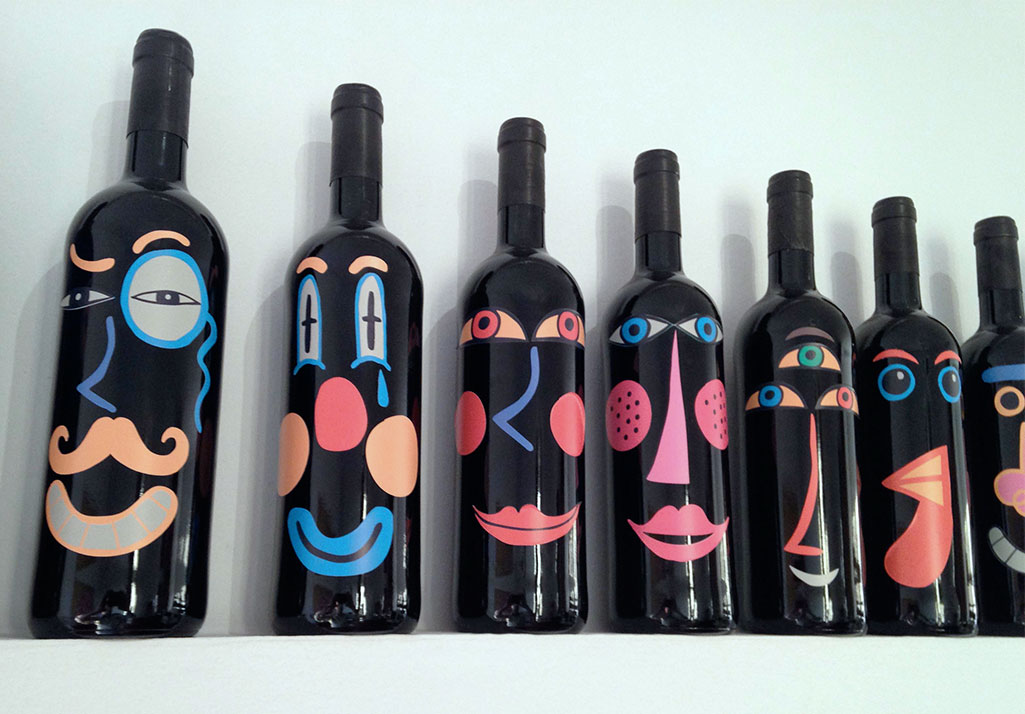 Catching the waves of Culture

¿Ilustración? ¿Diseño? ¿Simplemente Arte? Llamémoslo Andi. Fútil es la tarea de separar hoy día los géneros del arte, atomizado en las más variadas expresiones y soportes. Hay arte dentro del Museo del Prado como lo hay en la calle o en la carpeta "Mis imágenes". Y eso es motivo de alegría. Es difícil, sin embargo, encontrar artistas capaces de correr a la par de un mundo que va demasiado deprisa, capaz de no empacharse en el constante proceso de digestión y reciclaje a que nos obligamos. El hombre no ha sido capaz, ni posiblemente lo será, de encontrar un sistema justo, pero al menos hemos pasado de las primitivas cavernas a la de Platón, y ahora a ésta la hemos puesto conexión a internet y todo. Andi Rivas la ha cubierto con sus dibujos a modo de las chirigotas de su tierra. Obras libres de ataduras, con capas de desenfado y sentido del humor siempre superpuestas a la crítica social que contienen. El arte jamás estuvo tan al alcance de la mano; el gaditano lo sabe bien y desparrama sus dibujos por muros, lienzos, libros o camisetas: "Quizás porque mi obra gira en torno al dibujo, es tan fácilmente maleable hacia cualquier otra disciplina. El dibujo es un proyecto, la idea en bruto. De ahí nace todo. En la actualidad la formación multidisciplinar y la capacidad técnica con la que cuenta el artista de nuestros días multiplica las posibilidades de la creatividad. Se han roto muchas barreras (o se está en ello) en lo que a las disciplinas artísticas se refiere. Así es fácil ver estudios de diseño que hacen instalaciones, vídeo y publicidad, y es ese mismo núcleo creativo el que también sale a la calle para reclamar un sitio en la ciudad".

Un arte que sin ser combativo lucha contra la fealdad que produce esta época, representada para Andi en "aberraciones como la cenefa, el gotelé, los vasos de tubo, los cubiertos de plástico, los estampados horteras y sus combinaciones...". Para el artista gaditano, "hacer una vida cotidiana bella es tan importante como una obra de arte. Por mucho que algunos tiendan a pensar el arte no está nunca por encima de la gente, sirve a la gente. Por esto creo que el buen diseño es un Arte con mayúsculas". No hay que olvidar que en el Renacimiento se hablaba del Arti del disegno, expresión que hacía referencia a una concepción intelectual y estructural de la creación artística. Su estilo "poprrenacentista" maneja las estéticas del cómic underground americano, pasando por el macarrismo de Frank Kozik a la imaginería surfera del mundo naive de Keith Haring .




Si la belleza de los arabescos del arte musulmán –ese gran Arte-Diseño y su grado de perfección alcanzado nacieron en parte de la prohibición de representar a su Dios, en Andi ocurriría un poco a la inversa. En este caso no es que esté prohibido representar a Dios, es que Dios es el consumo y tiene, como el Dios cristiano, el don de la ubicuidad. Nuestra religión insaciable del deseo, fagocitadora de ilusiones de libertad nunca satisfechas, convertida a un profano y profuso pop: "Cada vez es más difícil escapar a las olas de la globalización. Represento el mundo en el que vivimos, mi realidad. Se trata de hacer de estos circuitos de información más biodiversos. No pretendo luchar estoicamente contra esas 'olas globalizantes', prefiero surfearlas que es más divertido. Creo que el lenguaje panfletario revolucionario está muy obsoleto, yo también estoy en contra del poder absorbente de la globalización pero creo que la revolución contra ésta es más sutil e inteligente que los modelos del 68, la revolución de hoy en día no debe recaer en lo social, sino en la esfera personal del individuo."

La revolución empieza por uno mismo y en Andi ésta consiste en mostrar caras amables en apariencia, pero que no por ello tienen por qué ocultar su reverso tenebroso. Como en su Guernika Brother, un diseño realizado con motivo del 75º aniversario de la obra de Picasso -"el maestro", según le denomina Rivas-, desprovisto de carga dramática, lúdico a pesar de las críticas que vierte sobre la guerra, las armas o la violencia ejercida desde los medios. Sus entrañables retratos de metrópolis como Madrid, París o Londres, en las que Andi plasma con sencillez y en abigarradas composiciones la belleza y el modo de vida atropellado de las grandes urbes. O, en otra línea, trabajos que conectan con el abolengo cultural español, en un intento de reencuentro estético, de búsqueda identitaria: "Intento crear -afirma el artista- sin barreras, reciclando imágenes de mi entorno, alimentándome de lo que veo, leo, pienso, transformándolo con mi trazo en parte de mi propio lenguaje". Haya pleamar o bajamar, la tabla de Andi se mueve como pez en el agua. Líneas gráciles y esbeltas, un dinamismo que consigue llenar de vida cada dibujo. La realidad convergiendo en un mundo bidimensionalmente sincero.

Texto por Alberto Sánchez.
Publicado en Babilonia Magazine 2011.